Announcing TamoGraph Site Survey 5.0
We are pleased to announce that we have released a new version of TamoGraph, a software tool for conducting Wi-Fi site surveys and visualizing WLAN characteristics.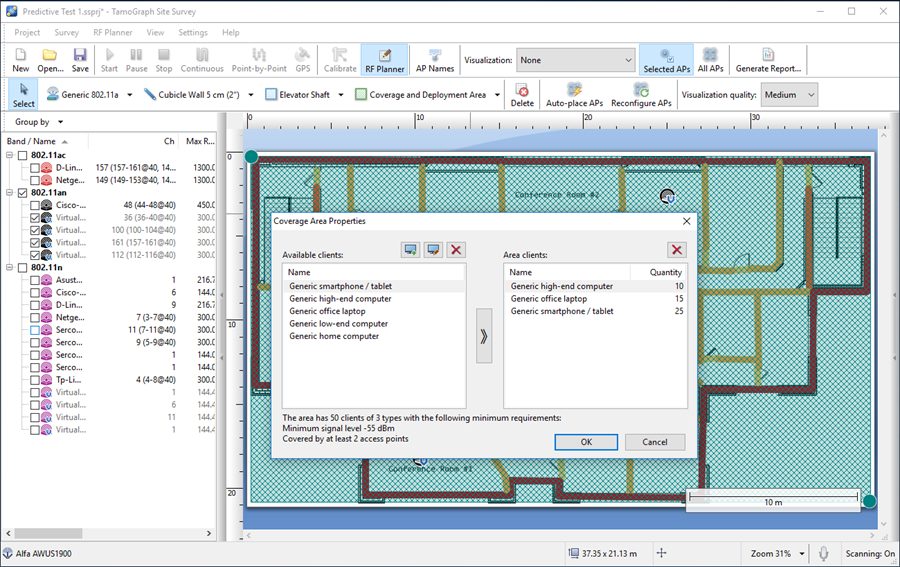 What's New in Version 5.0:
Automatic Virtual AP Placement. You no longer need to manually place APs in your predictive environment models!
Predictive environment models now support openings in floors.
Added new antenna patterns.
Virtual APs can now have two 5 GHz radios.

Updated MAC vendor list.

Improved CAD file import.
NetResident 3.0 is Out of Beta
After a few months of beta testing, we have finally released NetResident® 3.0, a network content monitoring and analysis tool. NetResident 3.0 has been fully rewritten and features a new architecture, new user interface, agent-based data collection, SSL decryption, and many other improvements.
What's New in Version 3.0:
New User Interface: We have completely re-designed the user interface. The new ribbon-based UI gives you quick and easy access to the interface elements and menus.
Agent-based Data Capturing: The previous NetResident versions relied on promiscuous mode packet capturing from a single "observation point", typically a PC connected to a mirroring port. The new version allows you to deploy compact monitoring agents on the LAN's PCs. This new architecture facilitates data gathering and, most importantly, makes it possible to capture and decrypt SSL-based traffic.
New Rendering Engine: NetResident 3.0 comes with a new Chromium-based rendering engine, which makes it possible to display web pages as they originally looked in the end user's browser.
New Database: NetResident 3.0 uses Microsoft SQL Server as its database engine. This makes it easier to control access rights, maintain data integrity, and quickly access stored network events.
Other Improvements: NetResident 3.0 supports a number of new network protocols (Outlook Web Access, iCloud) and comes with many updated protocol parsers.
Please note that we changed the format of registration keys in NetResident 3.0. If you are eligible for a free upgrade, please contact us to get a new registration key. Also, the data storage format has been changed in this version; old version 2.x databases are not compatible with this version. We highly recommend that you uninstall NetResident 2.x before installing NetResident 3.0.